Verve
Womens Shoes and Accessories Boutique


verve, n,
1. special ability or talent
2. a: the spirit and enthusiasm animating artistic composition or performance: vivacity
b: energy, vitality



Verve opened 11 years ago and was considered a pioneer in Manhattan's West Village. The store was the first fashion outpost on a section of Bleecker Street that is now populated by some of the world's most known designers. The family of stores now includes an accessory boutique and a shoe store on Bleecker Street, as well as a second accessory store located on the Upper West Side.
Verve is a destination for women who have a passion for shoes, handbags, jewelry and all things accessory. Our approach has always been to bring our customers the best of the emerging designers from around the corner and around the world - all for a reasonable price. We pride ourselves on excellent service and stand behind the products we represent.
If you are in the city, please stop by, we would love to meet you. And, don't be surprised if the person buying next to you is a celebrity...!
At the accessory stores you will find handbags (both for day and evening), jewelry, watches, wallets, hats, scarves, gloves, sunglasses, cufflinks, and ties.
The designers we feature hail from all over the United States, as well as Canada, Italy, France, England, Spain, Germany, Japan, Australia, Brazil, Argentina, Equador, and Israel.
You can see us regularly in In Style, Lucky, and Marie Claire magazines; we have also had several mentions in each of the following publications: New York Times/Style Section, Womens Wear Daily (WWD), Shuz, Oprah, Cosmopolitan, Essence, Time Out, New York Magazine, New York Post, Daily News, JJ/Japan, and Figaro/Japan.
Welcome to Verve!
Store Hours and locations
Verve Shoes
338 Bleecker Street
(Christopher - West 10th Street)
New York, NY 10014
(212)691-6516

Monday - Saturday: 11:00am - 8:00pm
Sunday: 12:00pm - 6:00pm






Verve Accessories
282 Columbus Avenue
(West 73rd - 74th Street)
New York, NY 10023
(212)580-7150
Monday - Saturday: 11:00am - 8:00pm
Sunday: 12:00pm - 6:00pm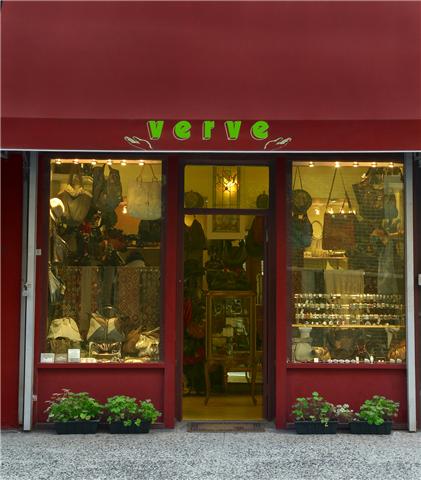 Sapphire Whisper Shopping Guide