Pookie & Sebastian
Womens Clothing and Accessories Boutique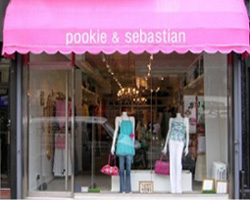 Pookie & Sebastian, a fun, flirty, and oh so girly specialty boutique…
What began as an uptown meets downtown love story developed into a much sought after hip clothing brand all about style, trend, and a bit of sparkle. Located in the heart of New York City, this boutique captures the attention of fashion it girls.
Known for carrying an outstanding collection of to-the-minute trends, Pookie & Sebastian offers an extensive assortment of darling tops, premium denim, heaps of jewelry, and assorted accessoires.
Never intimidating, Pookie staffers present the collection in a friendly and inviting atmosphere. Newcomers to Pookie & Sebastian quickly become regulars, and regulars, well they are just that…we see our "pookie girls" every week! Merchandise comes and goes so quickly, our girls don't want to miss a thing, they check in each week.
 Love Story
At one point or another, everyone asks for the story behind the name…so here our tale unfolds, "Once upon a time, Sebastian, a gorgeous and oh so pampered uptown boy with stunning good looks became enamored with gal pal Pookie, a quintessentially hip Soho girl,  who sets the standards that others follow. (Oh, did we mention? Sebastian is a Yorkshire Terrier and Pookie is too…please read on though…as the story is actually true).
The adorable pair fell in love at first sight. Pookie, having little interest in traveling uptown...after all and in true downtown attitude…most things fabulous are found South of Houston, encouraged Sebastian to depart from his more classically inspired lifestyle and venture to the bohemian mixed neighborhood where models and artists live.
With little choice and if truth be told, a keen desire to be a bit daring, love struck Sebastian gamely traveled to Soho often to visit Pookie, (okay, so he had a little help and yes, New Yorkers actually do schedule "puppy play dates", and some even attend doggy daycare, but that's a whole other New York story… back to our tale) In these travels between upper crust uptown and hipster downtown, it was noted that upscale uptown could really be enhanced by a bit of splashy downtown appeal…a short time later the first store was opened…bringing a bit of downtown to uptown.
store Hours and Locations
Pookie & Sebastian
Upper West Side
322 Columbus Avenue
(West 75 - 76 Street)
New York, NY 10023
(212)861-0550

Monday - Wednesday: 11:00am - 8:00pm
Thursday - Saturday : 11:00am - 9:00pm
Sunday: 11:00AM - 7:00PM



Pookie & Sebastian
Upper East Side
1488 Second Avenue
( East 77 - 78 Street)
New York, NY 10021
(212)580-5844

Monday - Wednesday : 11:00am - 8:00pm
Thursday - Saturday: 11:00AM - 9:00PM
Sunday : 11:00am - 7:00pm







Pookie & Sebastian
Murray Hill
541 3rd Avenue
(East 36 Street)
New York, NY 10016
(212)951-7110

Monday - Wednesday : 11:00am - 8:00pm
Thursday - Saturday: 11:00AM - 9:00PM
Sunday : 11:00am - 7:00pm




New Location Coming Soon





Sapphire Whisper Shopping Guide