Only Hearts
Womens Signature Lingerie and ready to wear inner outerwear Collection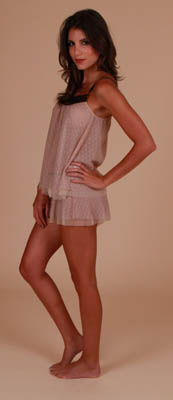 Only Hearts began in 1978 on Columbus Avenue in New York City. The original boutique was a tiny, outrageous temple to all things heart-shaped: vintage lockets to corsets, the precious to the sensual. It quickly became a destination for heart collectors; lovers searching for the perfect token of appreciation, and wanna-be lovers searching for a tempting bribe.

Its uniqueness caught the attention of the neighborhood and the newspapers; in February, when lines of customers snaked out the door and down the block, news crews labeled Only Hearts '…a shop for the shameless romantic' and the first stop in one's search for the perfect Valentine. Neighbors, hipsters, tourists, and celebrities became enthusiastic regulars.
Creator Helena Stuart took the idea to multiple locations and her imaginative personal style easily morphed into designing a fresh, seminal take on lingerie as fashion, her inner outerwearTM concept and ultimately, the outerwear collections of today.
For the past few years her partner has been daughter Kaya Stuart. Growing up in Manhattan, she trained at Parsons School of Design and in addition to her work in fashion was previously a professional pastry chef. Kaya contributes both design and management s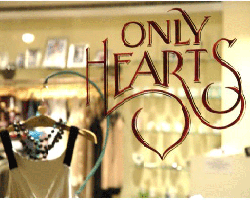 kills and is currently developing her own clothing line.
The collection 'Helena Stuart for Only Hearts' is designed and manufactured in New York City. It is featured in every major magazine, seen on the hottest celebrities, and sold at the finest specialty shops and department stores throughout the world. The Only Hearts retail shops have also continued to expand: in addition to the original boutique on Columbus Avenue, a second NYC store can be found in the heart of NoLiTa on Mott Street. The west coast store is on Montana Avenue in Santa Monica, California, and three European boutiques are located in Rome, Italy.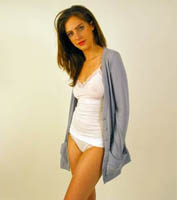 Only Hearts Organic Cotton

In 2010, Only Hearts added to its line a collection made of 100% Organic Cotton
Our search for the perfect lightweight organic jersey ended in Peru, producer of much of the world's finest cotton.  Used in our Inner-Outerwear collections, it's ultra soft next to you skin and gentle on the planet too.
Organic Cotton Cardi
 Made in Peru 

ONLY HEARTS PRESS






Store Hours and Locatons
Only Hearts
Nolita
230 Mott Street
New York, NY 10012
(212)431-3694

Monday - Saturday: 11:30pm - 7:30pm
Sunday: 11:30 pm - 6:30pm

Only Hearts
Upper West Side
386 Columbus Avenue
New York, NY 10024
(212)724-5608

Monday - Saturday: 11:00am - 7:30pm
Sunday: 11:00am - 6:30pm






Sapphire Whisper Shopping Guide