lee Anderson Couture
Womens Custom Formal Couture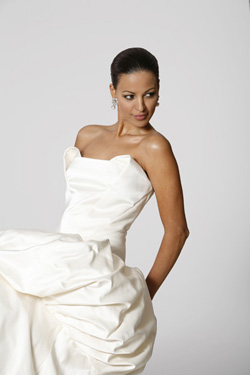 Lee Anderson had already garnered a reputation for creating custom made couture clothing that embraces chromatic luxury in world renown fabrics when she established her design business in 1980 in a townhouse just off Madison Avenue in New York City. Lee graduated from the Traphagen School of Design, founded in the 1920s by Ethel Traphagan, a designer credited with introducing shorts and pants to American women's fashion. The school was known for its technical orientation of the art of fashion design, offering courses in pattern-making and drafting. Although the school closed its doors in the early 1990s, such fashion icons as Geoffrey Beene, James Galanos, Mary McFadden, John Kloss, Christos Yiannakou and Franklin Rowe are among its alumni.
After being introduced to Seventh Avenue by Ralph Lauren, Lee worked as a design assistant to legends John Kloss (a fellow Traphagen alumnus, who began his career as an apprentice to American-born couturier Bob Bugnand in Paris and whose prolific career highlights include using chiffon, matte jersey and crepe de chine to design simple dress shapes that flowed seductively over a woman's curves - and most famous for designing a bra that appeared not to exist in 1974 for Lily of France) and Herbert Kasper for Joan Leslie (Kasper made his name as a designer by working for Joan Leslie from 1963 to 1985, becoming vice president of the company in 1980 and creating high fashion looks that reflected trends but were commercial and wearable).

Soon after striking out on her own, Lee Anderson's collection was featured at Barney's New York, Bergdorf Goodman and other fine specialty stores in the U.S. Today, the designer dedicates herself to her signature couture collection and special New York clientele. She continues to create clothing that embraces chromatic luxury using the most extraordinary and researched fabrics of the world, including iridescent taffetas, brocades, hand fringed British district checks and Celtic tweeds.

Lee Anderson Couture caters to a clientele who share her love for the highest pinnacle in luxury fashion.
Also available select variety of womens accessories and ready to wear mens formal shirts and ties
Fall Collection



Store Hours And Location


Lee Anderson Couture
988 Lexington Avenue
(East 71 and 72 Street)
New York, NY 10021
(212) 772-2463
Monday - Friday: 10:00am - 6:00pm
Saturday: 11:00am - 6:00pm
.
Sapphire Whisper Shopping Guide