Designer Credits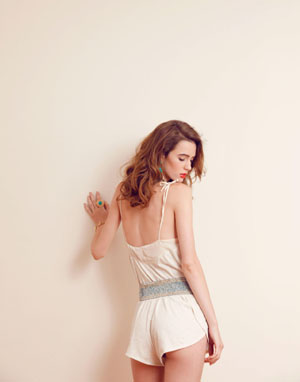 Cocobelle
Cocobelle is a Beautiful line of accessories- Sandals, belts and jewelry. Each PIECE EXUDES A CAREFREE SPIRIT and A SPECIAL TOUCH OF SPARKLE with the edge that Cocobelle knows how to deliver.



We believe one must always stay true to one's dreams. We believe that simplicity is luxurious and that classic styles arise from that which is ancient. We like to work with organic materials that lie comfortably against the skin. We are inspired by our travels, create beautiful things for people to adorn themselves with, and work together with friends. We have become very close with the people who produce our collections, and feel fulfilled that we provide them with a positive work experience that supports their families.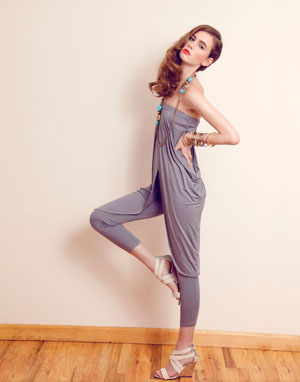 Maison Clothing


Wendy Wong started her original clothing line House of Spy ten years ago out of Toronto back when her lifestyle and designs gravitated towards nylon and an urban street wear aesthetic. Those fledgling fashion days sparked when Wong worked as a receptionist at the International Academy of Design and Technology, a design-oriented school located nearby the University of Toronto where she studied Biology. A perk of the post was free courses and Wong recalls running from organic chemistry and high level calculus to pattern drafting and draping. The fashion classes were purely for fun, but Wong found her attention wavering from science to sewing.

Her left brain shift proved to be incredibly fruitful. "House of Spy was totally urban but it exploded. We immediately got picked up by 15 stores. We just kept growing, growing, growing." In with the New For nine years, House of Spy had a solid international run. However, as Wong grew out of her college lifestyle, so did her sartorial style. Wong decided to initiate a rebrand with Maison in Fall 2010. The name means "house" in French – a clever nod to the line's predecessor and to Canada's French influences. "Maison is a more sophisticated version of House of Spy. The name fits the image of the clothes."

With Maison, Wong's mood has shifted away from a youthful party culture and now pertains to a more sophisticated and polished crowd. "I wanted to cater to my age group and create clothes that my friends and I would want to wear." Maison thus registers immediately with a fashion-forward audience. The line demonstrates her tailored eye for fit, silhouette and draping. Through Maison, Wong presents both wardrobe invigorating basics and chic little numbers that transcend day to night
MAISON Spring 2011 Fun, Flirty and Sophisticated
Designer Wendy Wong presents Maison, a playful and polished line that registers immediately with a fashion forward audience. Wong is hardly green to fashion and Maison is a tribute to her tailored eye for fit, silhouette and draping. Maison encapsulates wardrobe invigorating basics and chic little numbers that transcend day to night.
Wong pushes the sartorial envelope via classic spring silhouettes with a twist (and perhaps a drape and pleat or two). Maison also has some tricks up its sleeve with surprising side jersey cowls, digital prints and pulls of chiffon. Sophisticated and feminine, Maison is a must know and must have for any style maker with an eye for crowd pleasers.
And what does Wong insist upon? Creamy and dreamy fabrics that she scours the world for. "When I see a fabric I just know: you're the one. I touch a fabric and I can automatically see the garments. I feel it then I build a piece around it." As her designs grow organically from a choice fabric, trust in a perfect marriage of feel and fit.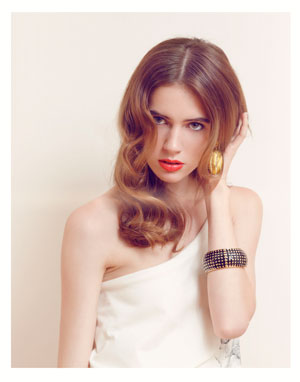 Amrita Singh


Amrita Singh Jewelry was launched in January 2003. Since then, Amrita Singh designs have won the admiration and devotion of the fashion world, celebrities, and the everyday woman. Her unique blend of Old and New Worlds into exuberant and artistic pieces of fashion jewelry and accessories have won her accolades in the fashion industry. The Fine Jewelry Collection is available exclusively at Bergdorf Goodman in New York City.
Her line for the Contemporary Woman, featuring the popular Bangle Bangle Collection as well as the Bollywood Collection, are available online and at several top American stores, such as Neiman Marcus, Nordstrom, Macy's, Intermix, Holt Renfrew, and various other boutiques and stores in the country.
The Contemporary collection has recently added other accessories, such as Handbags, Sandals, and Hair accessories. These accessories continue the company's tradition of high quality, creative, and fashion-forward designs that Amrita Singh Jewelry is renowned for.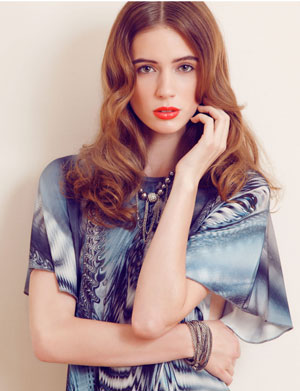 ASTRIDLAND


After receiving acclaim dressing some of our most influential international celebrities & starlets including Eva Mendes, Lauren Hutton, Faye Dunaway, Bebe Neuwirth and Scarlett Johansson incorporating elegance, class and originality, Astrid Brucker started designing her own line of unique and immensely popular dresses and accessories which include fabulous handbags, terrific scarves, and stunning jewelry.
Astrid's jewelry includes elegant rock'n roll style chains. They are versatile and enhance the wardrobe without being too heavy. Her semi-precious stone necklaces are made of rose quartz, smoky topaz and turquoise and her wooden bead necklaces are augmented with glass and seeds. Astrid recycles vintage jewelry creating one of a kind pieces, as well as making larger quantities of her own uniquely draped chain necklaces

Astridland is an eclectic cultural and social mix influenced by different time periods as the epitome of modern chic. The clothes are perfect for every day or elegant evening wear. The collection's inspiration seamlessly blends the edginess and energy of New York City with steadfast manufacturing traditions and a stylish modern twist.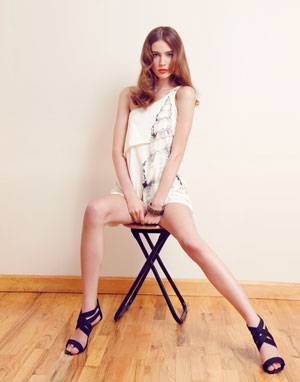 Mika Organic



Mika Machida was born in Aichi, Japan, in 1975. Having an art school graduate mother, she grew up surrounded by various art materials. She started drawing even before her earliest memory and spent all her childhood, drawing, creating and loving animals. During high school she won a free trip to Australia in a lottery and discovered her fascination with international cultures and meeting people from different backgrounds.

After high shool, Mika studied English at Koryo international college in Aichi, after which she went to England to join in a one year art program at Norwich school of Art & Design. Through this study and her visits to New York City, she found her primary interest to be in Graphic Design, thus deciding to pursue further education at Fashion Institude of Technology in NYC. While attending FIT, she also learned silkscreen printing, and started printing her designs on paper. She soon expanded her printing medium from paper to fabric and started designing her own clothes with her original prints. The original clothing line, MIKA ORGANIC started naturally as she expand her line while using only organic materials

Care for the environment, the planet, and animals are the main inspirations for Mika Machida. Only the finest organic and sustainably made materials are used in our line, including organic cotton, organic linen, hemp, and organic wool.
It is our responsibility as members of this planet to be sustainable and tread lightly on the natural world we live in so that we all can enjoy the beauty of this planet and pass it on to future generations
Cri de Coeur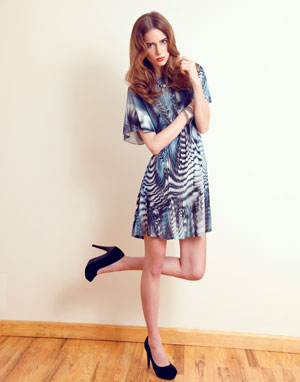 Never before has being eco-friendly been so stylish. Thanks to Cri de Coeur, a line of top-quality vegan shoes, ladies around the globe can create eco-luxe looks in no time flat. Pairing deftly with everything from cocktail dresses to skinny jeans, Cri de Coeur accessories embody effortless chic.
Cri de Coeur is a French expression that translates literally to "cry from the heart." The designers choose this name to sybolize their heartfelt desire to change the face of the fashion footwear and accessory markets by providing stylish, contemporary products that are ethically produced from start to finish. The choices we make as designers, manufacturers and consumers can have an enormous impact on the lives of animals, humans and our environment, while not compromising on style. Our mission is to help ethical fashion saturate the future market of retail by exciting a dialogue that will demand that these ideals be met industry-wide – because the planet and its inhabitants depend on it.
Cri de Coeur is a completely animal free company that is committed to educating people about a vegan lifestyle. There is a shift in attitude about how we define "style", with a growing awareness in the increase of pollution, deforestation, global warming, and resource depletion that is rapidly destroying the planet. The simplest way to help reverse these devastating statistics is by adopting a vegan lifestyle.

This goes beyond the dinner plate. Taking personal responsibility for not only what goes inside our bodies but for what we put on the outside of our bodies is crucial to our survival. This is how we hope to help redefine what it means to have "style"

Since the Spring 2010 launch of diffusion line, Hearts of Darkness by Cri de Coeur, even the budget fashionista can get in on the action, with every pair retailing under $150. Hearts of Darkness is simple, but never boring, and carries the Cri de Coeur aesthetic over to a more mainstream audience.