Spring Fashion Designer Credits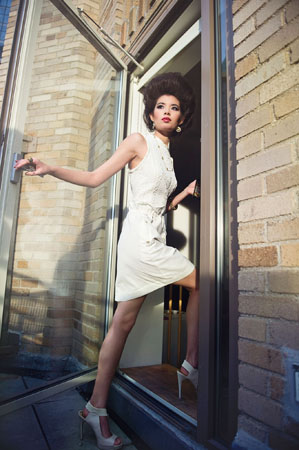 Cody Sai

CODY SAI is a casual ready to wear line that has a classic simplicity
with a bit of edge thrown in. He focuses on pieces that are wearable and comfortable while always remaining interesting.
Eager to get back into the creative side of fashion, Cody Sai decided to launch his signature clothing line in Spring of 2010, a women's ready to wear line that focuses on clean, well structured, innovative and classicly wearable deisgns. After CODY SAI's first collection he was featured along side famed Thai designer Thakoon in a 30 minute documentary for NHK World TV (BBC of Japan) as one of the next emerging Asian designers coming out of New York City.

For Spring 2012, Cody Sai took us on a refreshing journey of airy and crisp sexy silhouettes. Interpreting a fresh take on the season, the line was dominated by the simplistic elegance of whites with delicate touches of pastels. Achieving the exquisite balance of structural edge with feminine grace with a stunning collection of easy to mix and match springtime essentials.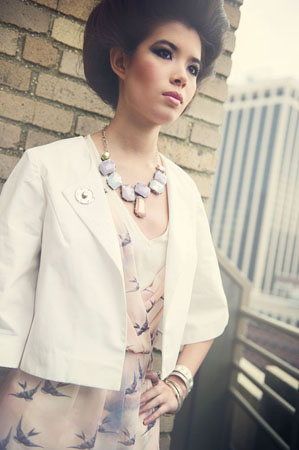 Roberta Chiarella

A perfect balance of trendy dramatic edge and glamorous sparkle, the Roberta Chiarella collection grabs your attention, with her amazing assortment of daring chunky necklaces, flirtatious dangling earrings and exquisite cocktail rings. The collection can be spotted along the red carpet, tv shows such as Gossip Girl, Wendy Williams and The Today's Show, not to mention a stylist's dream come true adoring the pages of fashion magazines such as Allure, Oprah, Cosmopolitan, Vogue and the list goes on and on. Her accessories are noted as favorites of many celebrities, including: academy Award winner Monique, Whitney Houston, Oprah Winfrey, Gabby Sidibe, Paula Abdul, Rachel Ray, Rhianna, Grammy and Academy Award winner, Queen Latifah, style guru, Stacey London, Today Show host, Hoda Kotb and author of "Fashion for Dummies" Emmy award winning television personality-Jill Martin. YOu can find the lovely collection at an NYC's fashionista's haven of accessories, Henri Bendel where this year marked her exciting 20 year anniversary.
Born and raised in Queens, New York, Roberta Chiarella began her design training at an early age beside the drawing table of her father, Joseph Chiarella, a successful advertising art director and illustrator, later graduating from Parson's School of Design in New York City. As an art director, producer and package designer, Roberta's early career at Clinique Laboratories was broadened in L'Oreal's Designer Fragrance Division, overseeing the Ralph Lauren, Paloma Picasso, Cacharel, Guy Laroche, and Giorgio Armani brands. As Vice President of Creative for Yves Saint Laurent Beaute', she directed Public Relations, Special Events, In Store Design and Advertising. Roberta's transition from creative director to jewelry designer was completed when her earliest work was honored in a group exhibition at The American Craft Museum.

The couture collection is designed in New York City and handcrafted in Rhode Island. The designs are beautifully finished and plated with the finest metals, 22kt. gold and platinum and MADE WITH SWAROVSKI® ELEMENTS. In 2010,Roberta launched a lower priced diffusion collection called RC2 Trend Collection.

Anna Beck

Los Angeles based Anna Beck Designs is a contemporary jewelry collection that uses one of the oldest jewelry making techniques in the exotic Far East. Timeless necklaces, rings, bracelets, earrings and cuffs are handcrafted on the island of Bali. Each piece in the collection is layered with tiny gold or silver disks, with each disk of precious metal individually cut and affixed to the metal base. The unusual style is made using one or more ancient Balinese techniques and gives Anna Beck's classic styles added interest and excitement. Today Anna Beck's designer, Becky Hosmer, resides in Bali where she continues to be inspired to create new designs while her sister Rachel supports and manages the company's team out of Los Angeles.
We are spellbound by the delicate handcrafted designs of the Anna Beck. There is a delicate grace which exudes the collection, as artisans carefully hand cut and individually place each element with care and expertise to produce the handmade Anna Beck signature style.

Anna Beck 's jewelry begins with inspiration from the island of Bali, where beauty is experienced through creativity and nature. Feminine and intricately desinged necklaces, rings, and bracelets- that are perfect for layering into new and more dramatic looks. AS you eagerly explore the whimsical jewelry line, you discover the unique elements of each collection the timor, gili, bali, lombok, java which are each personally inspired by various facets of Anna Beck's experiences and artistic observations in Bali.
Her captivating designs have attracted many fans including celebrity fashion icons such as Jessica Alba, Drew Barrymore, Nicole Richie, Kate Bosworth, Jessica Biel and Hilary Duff

Left on Houston
Houston Street is known to many in the fashion community as a dividing point through the epicenter for all things design, art, and culture related. It is where old meets new and modern thinking allows for an unconventional left of center approach.


Family Business Distribution introduced its first collection in 2002. Owners – husband and wife team Danny & Carla Hogg have a combined total of 20 years experience in the fashion industry. Together they have assembled a team of the industry's most talented professionals; bringing you the Fall 2008 launch of Left on Houston.


Left on Houston will build on the success of what Family Business does best; quality design and manufacturing for women's clothing, now with a new focus on knits.


When you turn Left on Houston – you are free to go anywhere.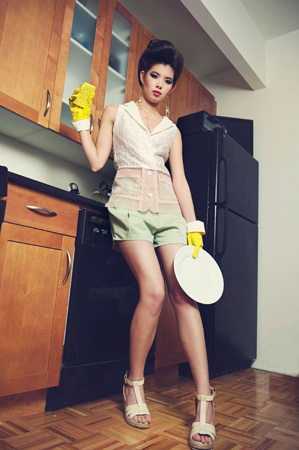 Madison Harding


Madison Harding was born out of a passion for the unique and eclectic personal style of contemporary women. A dynamic street sophistication that intrigues and defines modern sensibilities. New York designers, Hilary Rosenman and Barri Budin, deliver footwear through designs that reflect modern views as ready to wear fashion.

While studying art in Skidmore College, Hilary and Barri bonded over a shared love of fashion and the vintage aesthetic. Soon after, the two women moved to New York City's East Village to start careers in the fashion industry. Hilary helped build a successful contemporary fashion brand and Barri worked in sales in a multiline showroom. Before long, Barri & Hilary set out to follow their true passion, footwear. Having discovered a lack of accessible premium shoes designed for the downtown city girl, Hilary and Barri fused their innate sense of style, knowledge of production, sales, and the fashion industry to create Madison Harding.

Madison Harding presents an array of effortlessly cool styles and silhouettes, making it a favorite among fashion forward celebrities and socialites such as Chloe Sevigny, Rihanna, Leighten Meester, Lauren Conrad, Whitney Port and Lake Bell.

The name Madison Harding represents the designer's roots, Hilary grew up on Madison Ave in New York City and Barri on Harding Drive in New Jersey. Currently, both designers live and work in New York City.

Martine Wester

Ready to rock the world with glamour and pizzazz, look no further than Martine Wester. Shimmery crystals bedazzle and deliver a no nonsense burst of glamour. Statement necklaces that are an essential weather your dressed up or dressed down. And don't forget the chandelier earrings, dazzling drops, supersized cocktail rings and knock out fabulous rings that add a perfect finishing touch. Martine Wester is a chic playful world of possibilities, glistening in splendor.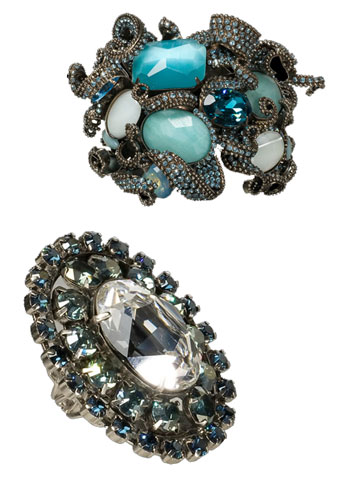 Sorrelli
Lisa Oswald is the creative force behind the Sorrelli brand, along with being the founder and co-owner of the company.While living in New York City following college, Lisa started designing fun costume jewelry that she could wear to friends' parties. She was drawn to jewelry design by the lure of self-adornment. She started creating sparkly little baubles that made her feel beautiful when she wore them. Her jewelry enterprise began in her Brooklyn loft, making each piece by hand on her kitchen table.


At the time, her twin sisters helped with the sales and marketing of Lisa's creations. The three sisters come from a strong Italian-American heritage, thus the name Sorrelli. Sorrelli is an appropriation from the Italian word for sisters, sorrelle.
Sorrelli jewelry consists of an abundance of amazing crystallized SWAROVSKI ELEMENTS faceted crystals as you will discover in the majority of their designs. Semi-precious cabochons like desert jasper, reconstructed turquoise, freshwater pearls, and tiger's eye are also used in their bold, beautiful pieces. Each color collection features a unique mixture of semi-precious and synthetic cabochons and crystals. The base metal of most Sorrelli designs is brass. Sorrelli's styles are plated in a variety of finishes, including Antique Gold, Antique Silver, Bright Gold, Bright Silver, Gunmetal, or Stainless Steel. Sorrelli graces the jewelry boxes of celebrities, career women, and jewelry lovers of every type and income levels.
The Sorrelli brand has grown over the years to include a variety of special collections, all with their own characteristic sparkle and appeal. The Bridal, avant Garde, Mimi and Collegiate collections have all been created as extensions of the core Sorrelli line to offer more options to the Sorrelli customer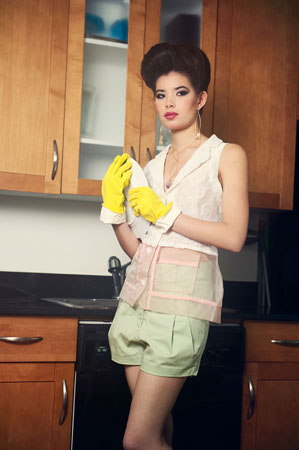 Zia Couture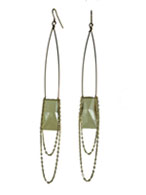 Zia Couture's multi cultural inspired line is striking with depth, rich textures and intriguing use of shapes. ZIa's jewelry is ethnic and exotic while being contemporary and Stylish, its Global Chic! This beautiful FeelExotic Collection includes delicate wire wrapped earrings and rings and bold beaded necklaces and bracelets. Minimal elements combine with the dramatic and organic to characterize a truly distinctive line of intriguing statement jewelry pieces. All stones are natural, intricately hand faceted and carefully hand wrapped individually.

The multi-cultural influence of this chic collection comes from Zia himself, who split his childhood between Kenya and the US while being raised by a Japanese-American mother and an East Indian father. Zia is also a former model, having acted as the face of national advertising campaigns in Kenya and surrounding African nations, also gave hime the unique perspective influenced by his extensive travels throughout Asia, Africa, Europe, Central and North America. ZIa prides himself in his ability to bring his clients quality at remarkably affordable prices. His collection is handmade in Savannah Georgia, which is also home to his namesake boutique- The boutique features an array of sterling silver and gold jewelry, exclusive accessories and unique home interior accents, which hail from 48 different designers around the globe. He is excited to share tokens of his travels with Savannah residents and tourists alike, and now to anyone in the world via his online-boutique.
Gentle fawn


What started out as an afternoon of innocent thrift shopping turned into a brand new clothing line – and changed the lives of designer Daniel and Carla Hogg. Founded in 2003, Gentle Fawn Clothing is inspired by a rare collection of antique ceramic fawns. Today, the original fawn remains as the symbol of the company's creative beginnings and its design inspiration.


Gentle Fawn is a contemporary and imaginative line of clothing that speaks for people who follow their own paths in life. THeir style is clean and modern, with details that give each piece of clothing distinctiveness. Overall the aesthetic reflects a strong sense of fashionable edge, but never neglects the bit of charm that sets Gentle fawn apart from the rest.


Fashion is often a question of design versus function. Season after season, Gentle Fawn manages to create a line with the perfect blend of both great designs and functionality. The brand has emerged as a stylish mix of nature and city elements. This balance is the cornerstone of the collection and reflects the lives and philosophies of owners Daniel and Carla

DAO


D.A.O. means the way or path in Chinese. As an acronym, it stands for Define An Original, a persoanl challenge to designer danny as well as to his fellow creatives. Make your way along a new path to inspiration, a new way and beginning. That is what these shoes do, take the pain out of the beauty, and let you walk the walk.


Mission
To create beautiful, and comfortable footwear using refined design from the ground up. Through foot tracings and measuring, DAO creates customized footwear based on what their customers want, and the designs process evolves through several fittings and models to create the ultimate final product. Comfort and fit are always the #1 priority. some unique features to the line include a special memory foam foot bed , as well as a shaped platform that balances and takes the stress the ball of the foot, that is normally created by such a high pitched angle. all the fine leather and trims are carefully handpicked and to further ensure the intregrity of the line the production amount is limited to a smaller quantity to keep the focus on quality, using traditional hand lasting shoe making techniques.



Plomo Shoes



What first drew Galia and Keltse to one another is familiar to most women: an undeniable, uncontrollable love for shoes. The two first met on the set of a TV fashion show in 2007 and since then have been inseparable. Bounded not only by a love of shoes but also for travel and adventure, these fashion forward women took their passion one step further with the debut of their first collection of shoes. After the success of their initial collection, the pair continued designing and in January 2010, Plomo Shoes was born! The two friends continue to find inspiration from quotidian magnificent even downright bizarre places, finding the beauty (and the shoe) in all of them. Although they now live a continent apart (Keltse in New York City and Galia n Mexico City )these two still share their love for shoes and shoe design, inspired by their own travels and the unique colors, textures, foods, buildings and even the people they find there.

Spring 2012 Collection- Last summer, Keltse took an extensive trip along the French Riviera and the Southern Italian Coast. Upon her return she shared her journey with Gallia and the two designed the Spring 2012 collection with a French inspired artsy chic style in mind.

Elements of the beaches in Cannes and Antibes still lingers in many shoes from the collection with their sand like exterior. Cork and wooden platforms also appeal to a seaside view. Stone walls in Arles, Avignon 's charming broken bridge and the Pope's Palace led, among other things strappy oxfords in soft gray and beige leathers - a classic addition to any spring outfit. In fact, a palate of gorgeous pale color's saturates this entire collection, reminiscent of lavender fields , Van Gogh's paintings and Picasso's Les Demoiselles d'Avignon. Cubist geometrics also influence several shoes. Colorful macaroons and sweet croissants from the patisserie as well as Chez Ariane with its hundreds of quiche varieties bring a sweet flavor to many designs. Finally, Nicole Nabokov's Lolita, the novel Keltse was reading on her excursion , influenced the designs as the Plomo Spring 2012 collection is filed with sleekness and mysterious romanticism that leaves much to the imagination.
ollection illustrates his progressive thought process- focusing on the balance between fluidity and structure and expressing an avant-garde sensibility that captures the mind, body and spirit.


Amy Marie Goetz


Amy Marie Goetz has been heavily involved in the fashion industry in both modeling and design. She modeled for many years in Miami, New York, and Los Angeles before launching her womenswear line
In 2002, she earned a degree in fashion design from Miami International University of Art and Design, Miami Fl. Soon to follow she attended the University of Cincinnati's Design Architecture Art & Planning Program where she earned a degree in fashion design. Amy Marie Goetz has high standards in design where quality, modern aesthetic, and exclusivity make her collection unique. Each style in her collection was designed to enhance a womens confidence, sex appeal, and sophistication.



"Amy Marie Goetz's creations are designed with the stylish, highly individualistic and cosmopolitan woman in mind… she has managed to combine effortless style with a timeless appeal."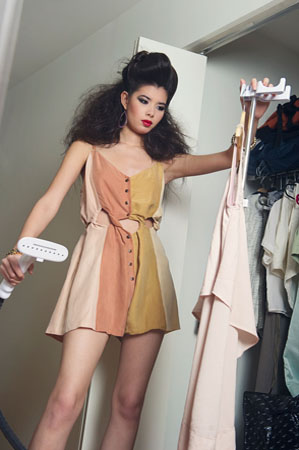 Samantha Pleet

The story began in 2006 when Brooklyn Designer Samantha Pleet debuted her namesake collection, intertwining elements of the mysterious and fantastical with a sense of modernity.
Each season new and ancient ideas from music, art, history, and literature are conjured along with various feelings and are transformed into Pleet's silhouettes, then shown in collaborative projects from films, photographs to unique installations.
The clothes, made in New York City using organic materials whenever possible, have become a favorite among creative girls around the world including musicians like Beach House, The Dirty Projectors, and Au Revoir Simone.
She has collaborated with Urban Outfitters on Rapscallion by Samantha Pleet which led to curating the inaugural pop up shop at Space 15 Twenty in Los Angeles. The 29 year old Pratt graduate gardens, paints, travels, and hunts for treasure in her spare time. For Spring 2012, she dazzles us with a chic assortment of playful rompers, flirty sundresses, plus carefree pantsuits and stylish jackets with signature accents. We love the super easy to wear neutral palette, along with striking peacock printed pieces that are too die for.