Recession Denim
Sapphire Whisper's Denim Feature Fall 2009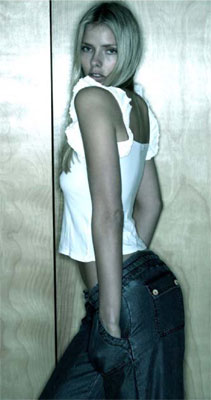 The economic turmoil of the past few months has forced many people to be creative when it comes to fashion choices, and Daniella Siri is no exception. After seeing her fashionable friends sacrificing style and quality in order to be able to afford stylish denim, Daniella took it upon herself to find a solution: Recession Denim. The mission of recession Denim is simple: to provide high quality and stylish denim at a price that suits our times.

Recession Denim launched its premiere collection in the United States in April 2009. The collection features well-made, classic jean silhouettes that will never go out of style. The entire collection ranges in price from $85-$120, which is well below the current price for high-fashion denim. The focus of Recession Denim is on the premium material and fit, with only a simple white label to announce the name of the brand.
"The inspiration behind Recession Denim was that an amazing pair of jeans should be available to everyone, regardless of their budget" says Siri. "Recession Denim will make you not only look good, but feel good also, because you know you didn't pay a fortune for your jeans". Designed for girls who love to experiment with the newest fashion trends, the low price point of Recession denim allows consumers to splurge on other key pieces each season.
Now available at over 50 top boutiques in the US and internationally, Recession Denim will be launching its fashion-forward second collection this Fall. Taking cues from Fall 2009 runway trends, the new collection features Motorcycle jeans, denim leggings, and the Gypsy line, which includes denim dresses and skirts
Fall 2009 Collection
| | | | |
| --- | --- | --- | --- |
| | | | |
| | | | |
| | Fleece Leggings Black | Motorcycle Black Plaid | Soho Dark Blue |
| | | | |
| | Marlboro Flared Light Blue | Gypsy Dress Blue | |
| | | | |