Kaia Organics
In a world filled to the brim with beauty and skin care options choosing products that are both safe and effective can be a daunting task. Thankfully Kaia House "home to the purest skin on earth" takes the guesswork out of choosig products that work best for your lifestyle. Pushing aside chemical and toxin-filled products, Kaia House offers only the purest, safest and most effective skin and beauty care on the market.

Here's a sample of Kaia House's good-for-you offerings.

Kaia House Organics Body Collection: Featuring unsurpassed organic collections, body scrubs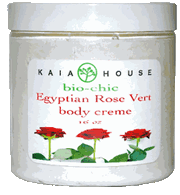 and cremes, the body collection is infused with pure ingredients, including organic jojoba oil, aloe Vera, soothing Vitamin E. Rejuvenate your mind, body and soul with Kaia House Organics Egyptian Rose Vert Body Scrub. This refreshing body scrub us made with exfoliating Dead Sea salt, Kelp powders and moisturizing almond oil and aloe, romantically-finished with real rose petals and a blend of Egyptian rose scent. SRP $26
Chocolate Vanilla Body Creme: A deliciously-decadent blend of cocoa butter, vanilla and organic willow bark, this moisturizing cream is extra thick and all natural. SRP $30
Kaia House Organics Skin Collection: A satisfying collection of cleansers, peels, serums, moisturizers and toners, the organics skin collection offers the ultimate in all natural and organic ingredients. This season's must have: Red Carpet Ready Serum.
Ideal for in-between skin, this innovative serum fights acne, diminishes fine lines and wrinkles and minimizes the appearance of pores. SRP $60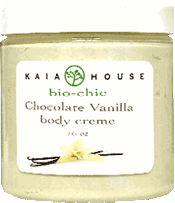 Kaia House Organics Hair Collection: Treat your locks, to an assortment of moisturizing shampoos, conditioners and masques that boast organic essential oils and refreshing scents. Revive damaged hair with Kaia House Organics Hair Masque, a blend of organic aloe juice, avocado and coconut oils this masque works to create shiny, super-moisturized, bouncy hair that is never weighed down. SRP $18
Kaia House Organics Bio-Polish: Free of phthalate, toluene and formaldehyde, the Organic Bio Polish collection boasts an assortment of beautiful hues, from vampy Madrid to playful, Miami. Kaia House also offers a Clear Skies base and top coat to protect your manicure from chipping. SRP $9.80 each. For earth friendly removal use, Kaia House Soy Polish Remover, free of all parabens and harsh chemicals, this soy-based remover is gentle on the nails and effectively removes polish. SRP $ 9.50

About Kaia House
Founded in 2007 by DNN Nashaat, Kaia House, home to the purest skin on earth, is an etailer dedicated to delivering only the safest and most effective products available on the market. Focusing exclusively on natural beauty, Kaia House is the number one site for organic skin and beauty care, offering only purest in make-up, skincare, fragrances, bath & body products and haircare for men, women and babies.
In addition to their signature Kaia House Organics collection, Kaia House offers over 2000 all natural and organic skin and beauty products on their site from an assortment of brands, including Bath by Bettijo, Chemically Naked, Burt's Bees, Eco Nvey, Juice Beauty, Red Flower, John Masters Organics, Max Green Alchemy, Hamadi and more.