Gaspar Gloves
A Fall Essential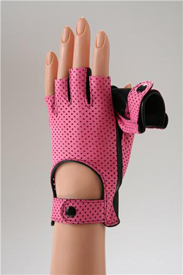 Glamorous, Elegant, Sophisticated, Edgy, Sensual, Mysterious, Confident, Classic, Modern, Avant Garde, Luxurious and the list of stylish possibilities goes on and on. This fall every lady should indulge in a hot pair of gloves, and Gaspar Gloves by Dorothy Gaspar are a favorite of Sapphire Whisper! Gloves are the stunning final touch for evening and the sleek compliment to cool weather protection. Gaspar Gloves carries such a wide selection of unbelievable g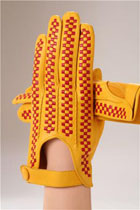 loves that move beyond coordinating with your outfit to transforming its whole look and feel. Gaspar Gloves uses traditional table cutting and stitching techniques to produce high quality gloves; specializing in hard to find styles from many periods Dorothy Gaspar offers custom design and manufacturing services for film, television and theatrical productions around the world. And now after over 20 years of experience in Hollywood and Fashion, Gaspar Gloves is looking to expand wider into the retail market

Dorothy Gaspar is a third generation master of luxurious leather goods; in her case specializing in fine leather gloves. A descendant of her grandfather Joseph Gaspar who in 1885 created a custom glove business and used methods of craftsmanship very similar to the techniques of couturiers. These learned methods have been passed on to Dorothy giving her the unique foresight to transcend simply making gloves to creating art.
You can see and feel the quality and tradition of expertise in her line. Exquisite elegance and luxury transforming function.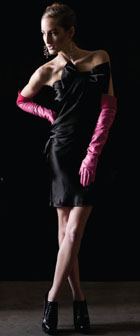 Dorothy's gloves are readily available online for purchase but also stayed tuned for her much anticipated retail collection under the label Gloves by Dorothy Gaspar that will hit stores spring 2010. Not to miss couture styles ranging from daytime chic to fashion fetish.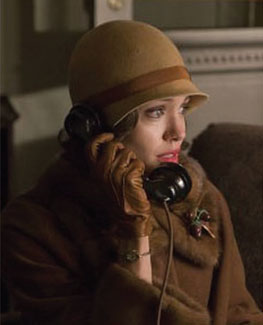 Gaspar Gloves have played starring roles in many Hollywood motion pictures: Examples include Kate Winslet's white opera gloves in Titanic, Michelle Pfeiffer's high shine black patent gloves as Catwoman, Angelina Jolie's caramel dress gloves in Changeling, Eva Mendes' white whip stitched onyx calfskin gloves in The Spirit, to only name a few.
And it was only time for fashion stylists to jump right in as well, finding the gloves perfect for music performances, videos, and world tours as gloves have been ordered for artists such as Madonna, Britney Spears, Lady Gaga, Paris Hilton and not to mention features in high fashion publications like W and Harpers Bazaar, as well as accessorizing the runway shows for designers such as Max Azria, Voom by Joy Han, Erin Fetherston, and the Samora collection. Her impressive list of celebrity clientele include Sharon Stone, Beyounce Knowles, Celine Dion, Jennifer Gardner, Marilyn Manson, Rose McGowen and many more. And you can easily see why.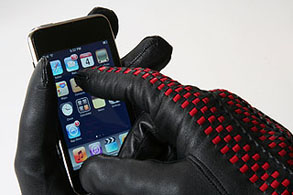 Further exciting news surrounding the Hollywood glove designer involves her recent collaboration with TouchTec inventor Jerry Leto, as Gaspar Gloves focuses on marketing the gloves to a more consumer based audience. Gaspar Gloves with TouchTec is a groundbreaking technology that allows the wearer to operate an iPhone or any similar touch screen device without ever taking their gloves off. TouchTec Technology mimics the human body by making leather as well as a variety of other textiles touch screen sensitive. Now you never have to worry about exposing your hands in the cold or to compromise your ensemble by having to dismiss your gloves in order to text, tweet, or answer the phone. It's definitely a very exciting innovation.


With eight butter soft leather styles designed to cater to: (1) the nuevo corporate executive (2) the women or man who refuses to jeopardize style for function and (3) the young urban trailblazer. Welcome to the future of style and function! Gaspar Gloves with TouchTec will be available holiday 2009.
See www.gaspargloves.com for more information and to order from the current collection online