Fall 2009
Fashion Stylist: Sandra Alice
Photographer: Yayoi Sawada, www.yayoisawada.com
Model: Katya from Supreme
designer Credits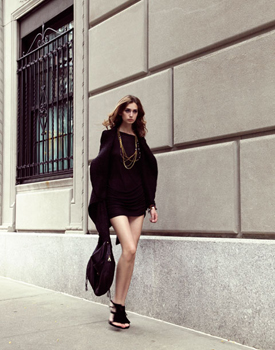 Lia Kes

Lia Kes is a native of Kibbutz Afikim, which is in the northern region of Israel. After serving in the Israeli Air Force for two years, she received a Bachelor's Degree in Fashion Design from Shenkar College in Tel Aviv. Kes then relocated to New York City in 2000, determined to do her own collection even though she only had one hundred dollars to her name.
With the help of a friend she created a T-shirt line. They instantly sold to some of the top boutiques in NYC and were featured on several television shows. In the meantime, Kes was managing a leather store in order to keep her life and business going. With her success she added more pieces to her line and eventually established it as her own signature collection. Today the Lia Kes collection is featured in some of the most prominent stores across the US & Europe. Fans include Kate Hudson, Kim Kardashian, Giuliana Rancic, Chelsea Clinton, Kristi Yamaguchi, Maggie Grace, Angela Basset, Catt Sadler and Sarah Mcclachlan. Her unique pieces have been featured in Cosmopolitan, Daily Candy, In-Style, Life & Style, Lucky, Marie Claire, OK, US and WWD.
Kes believes in showing intellect, as well as sensuality, in order to achieve more in life as a woman. The collection is being created under that belief and to serve that purpose.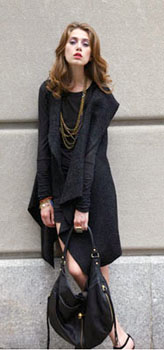 Rebecca Minkoff
Born in San Diego, California, Rebecca grew up surrounded by beautiful sights. As a direct result, her first love was the art of design; she began sewing at the age of 8. Although RebeccaÕs handbags have been a hit around the world - from the red carpet to the street - her first foray into fashion was apparel. She launched her eponymous clothing line in 2001 with the details and fashion-foresight one would expect from a well-made garment. In fact, it wasn't until her good friend and actress Jenna Elfman asked her to design a handbag for her next movie that the Morning After Bag - and thus, the Rebecca Minkoff handbag collection - was born. Faced with the overnight sensation created by the MAB, Rebecca seamlessly transitioned her design efforts to handbags. As in her clothing, Rebecca strives to design bags for everyday women that are versatile in color and comfortable in style.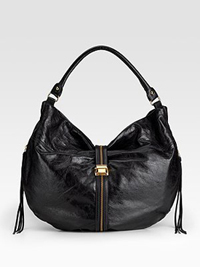 Since its inception, Rebecca Minkoff's handbag collection has been spotted on the arms of such celebrities as Agyness Deyn, Hayden Panettiere, Blake Lively, Rachel Bilson, Sarah Jessica Parker and Bijou Phillips. Now, the Rebecca Minkoff brand can be found in high-end department stores and boutiques across the world, including Nordstrom, BloomingdaleÕs, Neiman Marcus, Saks Fifth Avenue, Henri Bendel and Shopbop.com. She is also carried in over 10 countries, including Japan, France, Russia and Canada.
For Spring 2009, Rebecca returns to her original passion: apparel design. Rebecca's ready-to-wear line is inspired by the women who wear it: confident ladies who like to have fun and wear their heart on their sleeve (and a bag on their arm). And just like her handbag line, the magic is in the details.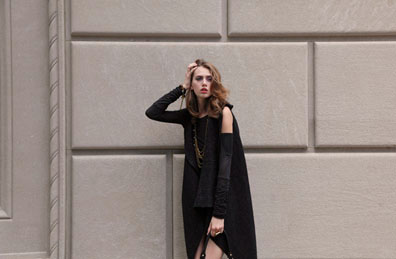 Sheila Elaine

Sheila Elaine is an energetic young accessories company with a passion for creating edgy and elegant accessories and clothing. Our design process begins by pondering a new piece of fabric for all of its possibility and potential. We then envision design concepts and work to utilize the elements of fabric, texture and color in unexpected ways. In a very real sense, our pieces are collages: novel arrangements of shapes designed to work together to achieve dramatic effect. Sarah Wagner is the Founder and Designer of Sheila Elaine. The Sheila Elaine line was named in memory of her two very fashionable aunts, Sheila and Elaine. Sarah was raised in Memphis, Tennessee (home of Elvis Presley) amidst a family of talented amateur artists and musicians. After graduating college with a B.A. in communications from Yeshiva University, she spent time working in advertising before marrying and moving to Paris, France. She has been vastly inspired by her world travels, experiences and the art of her family members, to keep adding to the Sheila Elaine repertory. Shelbee Teller is the Head of Sales & Production for Sheila Elaine. For the past three years, Shelbee has been an integral part of the design process, and manages Sheila Elaine's Production and Sales teams. Shelbee has taken Sheila Elaine from bolts of fabric on a New Jersey dining room table to boutiques all over the world.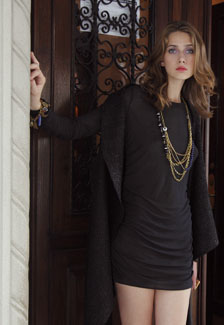 Courtney Simmelkjaer

The label and its creator, Courtney Simmelkjaer, are allusions of character and attitude.
Her product line enchants the contemporary woman, blending traditional and modern jewelry elements and utilizing materials to create subtle architectonic pieces. Items which blend in cords, gemstones, chain and surprises – all handmade in her Harlem, New York studio, a dynamic space that reflects the company's creative approach. Courtney relies heavily on South America and her own fantasy; dreams, memories and desires for inspiration.
Fashion has always been present in Courtney Simmelkjaer's life. She grew up with much creativity surrounding her. Both her mother and grandmother were always strong references. In 2005, she graduated from Rhode Island School of Design's department of Interior Architecture. Despite her architectural academic background, she already knew quite well what she wanted. Half way through her studies Courtney began working with independent New York jewelry labels, and, thus, in 2008 she decided to put into practice her most audacious project: the brand that takes her name. Credited by WWD as "One to Watch" and has received press from other publications.
The Courtney Simmelkjaer label can be found online at maxandchloe.com and at national jeancompany.com.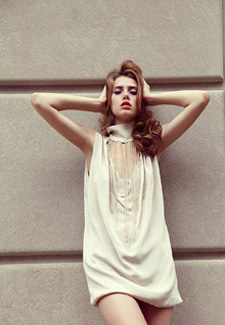 Sheri Bodell
Sheri Bodell's collection exudes glamour and sex appeal. It is today's confident woman, who builds her wardrobe around pieces full of attitude that inspires Sheri. Her designs incorporate sleek cuts and intricated details with a rock 'n' roll vibe.
Bodell began her career as a buyer, merchandiser and designer for a high caliber specialty store and moved quickly into establishing her own line " She by Sheri Bodell" Years later, she is still on top of her game with her higher-end signature collection of embellished dresses, tops, and skirts with one of a kind hardware, beading, and fringe detials. Since Spring 2004, the "Sheri Bodell" collection had wowed critics, editors and buyers at Los Angeles Fashion Week with a runway show to match NY and Paris designers. In March of 2006, Sheri Bodell premiered her collection on the runway in Paris during Paris fashion week for the first time. This exposure earned her the respect of the international press and buyers. The collection is sold in over 500 stores worldwide.
Sheri Bodell's fabulous and flirty clothing has a devoted celebrity following. Her client roster features such style setters as Eva Longoria, Lauren Conrad, Ashley Tisdale, Christina Aguilera, Whitney Port and Gwen Stefani. Her editorial coverage includes a wide array of magazines such as Vogue. In Style, Marie Claire, Lucky, Cosmopolitan, and Elle. Bodell's designs consistently create a buzz amongst the fashion industry heavy weights, which have earned her the reputation as one of the most prominent Los Angeles designers.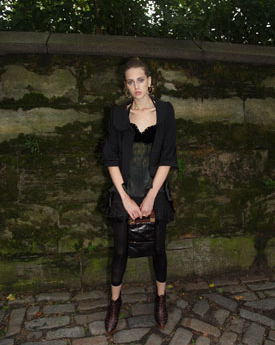 Kahri
Growing up on a farm outside the hamlet of Tripoli in northeast Iowa, KahriAnne Kerr broke the mold. From an early age, KahriAnne loved all things creative and artistic. From "making the walls pretty" with crayons, to writing and illustrating and publishing a book titled "Picasso and Me" in 2nd grade, to insisting on putting together her own outfits, since before she could talk, which always included a matching hat , KahriAnne has always been a determined individualist. This determination allowed KahriAnne to follow her heart and her dreams, from being a competitive gymnast, a painter, a writer, a cheerleader, a singer, and a dancer in humble Iowa, to become an independent fashion designer in the capital of dreams realized or shattered, New York City.
KahriAnne started her clothing line at the age of 19 in small town Iowa. The line grew and evolved over the years. Now the hip, funky, rocker chic women's contemporary clothing line Kahri by KahriAnne Kerr is available at boutiques across the US, England, Scotland, Israel, and at many online boutiques. Kahri has been featured in many magazines, on tv, on celebrities, and in many fashion shows.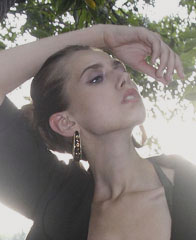 Soho Hearts


Amsterdam native, Juliette Booker offers you a superb selection of stunning jewelry designs. Juliette's company, Soho Hearts, presents a dazzling collection of luxurious, stylish and trendy jewelry in an abundance of color, texture and reflective beauty.

The collection conveys not only Juliette's gifted eye for bold and subtle statements through the artistry of fine craftsmanship. It also serves as a very personal example of the heart and soul that nourishes her passion.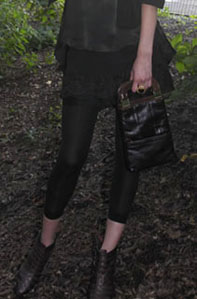 Magnes Sisters



Once upon a time, a Russian artist prophesied the careers of her three Israeli granddaughters, Dina, Yael, and Tamar Magnes.The first would create clothing, the second, jewelry, and the third, graphic design.
Today it's only fitting that, the sisters would look to their wise grandmother as the inspiration for their joint venture, a line of high end handbags.The sisters gathered in New York with a dream of designing and creating together. They love working with materials such as Italian leather, Natural canvas, vintage wool and silky linings. Made in NYC, the handbag are an expression of their individuality and harmony as a trio.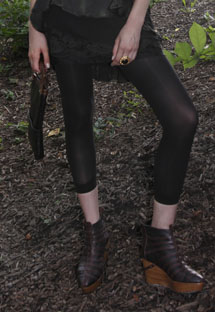 80%20

Both innovative and classic, New York based shoe line 80%20 introduces the Fall 2009 collection. In looking forward for this collection, Ce Ce Chin found inspiration in the urban romance and creative vision prevalent in the early 1980s, particularly in New York City. Drawing upon images from movies "After Hours" and "The Warriors," 80%20's Fall 2009 styles evoke a sense of strength and femininity. Chin evolves her signature hidden wedge with cut outs, buckles, and chains. A hint of modern day geisha appears in the form of stacked leather wedges. Chin also draws on classic references with bridle leather, buffalo check patterns, and neutral color palettes. The complete collection presents itself as the footwear for a modern city warrior, arming herself with creativity, functional style, and optimism for possibilities to come.
The 80%20 brand: The lifestyle you live, the footwear that gets it. This is the world you create out of your own passion. You live your aspirations; we provide the shoes to take you there. Living the life: fun-loving fashion and easy, effortless style. 80%20 footwear.
After cutting her teeth designing for powerhouses like Calvin Klein, Michael Kors and DKNY, in 2004, owner and designer Ce Ce Chin jumped out on her own to design the perfect lifestyle shoe, thus 80%20 was born. The concept behind 80%20 came from Chin's observation that we tend to wear our favorite 20% of our wardrobe 80% of the time. The smallest percent has the greatest impact. The ratio of knowing your style and what you want. 80% life, 20% shoes=100% love.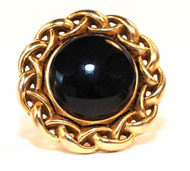 Allison Daniel
Working only when she is truly inspired, Allison's designs reflect her inner beauty. Having the ability to forsee her creation before dipping her paintbrush or sketching a design is what makes her such a gifted and talented artist.
a little bit vintage, a little fun but all about the happy things in life!peace,love & allison daniel designsMission:To make every outfit a great one!!To make you feel prettier then you already are!!Products:all sorts of pretty things.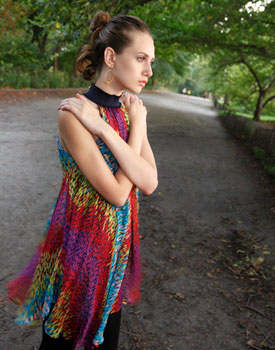 Gina DeSilva

Gina DeSilva is inspired equally by urban street style and the classic femme fatale. With a focus on clean lines, fit and proportion, her look is undeniably feminine and sexy, but also fiercely independent and strong.
Growing up in the workroom of her family's bridal salon, she learned fabric, style and couture details from the inside out. After receiving a degree in Art from NYU, DeSilva went on to working for various designers before opening a downtown Manhattan extension of her family's business. Here she designs bridal and evening gowns for the store in addition to her own line of ready to wear clothing which launched in 2008.

Sylas By Nashelle
Sold in over four hundred high end boutiques worldwide, Nashelle jewelry, is classic, modern -chic at it's best. Clean details, boldly designed and beautifully construted, it's no wonder the line has become sought after by celebs and non-celebs alike. And now Heather is proud to annonce the sister to the Nashelle linem SYLAS by Nashelle. Heather's dream to create a high-end fine jewelry line of solid 18k gold pieces.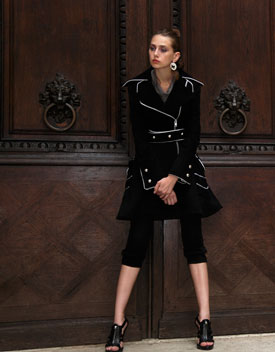 Mothe



May Kosaka grew up in and around New York City. After receiving her Bachelor's Degree in Computer Science, she realized that there was another, singular calling for her. Her interests in art & the construction methods of clothing led her to New York's Fashion Institute of Technology, where she received a degree in Fashion Design.


In 2005, she was commissioned to design conceptual garments as part of Parthenogenesis, an art installation for the Armory Show, the world's leading art fair devoted exclusively to contemporary art, as well as New York's largest. After the incredible response to her work by artists & the general public at the show, she has decided to start infusing the same aesthetic into clothes that all women can wear.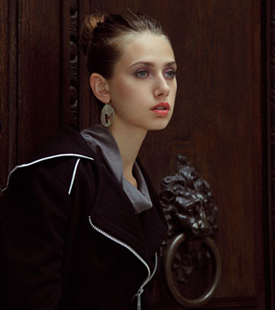 Page Sargisson

Jewelry designer Page Sargisson is known for re-purposing vintage items such as Indian woodblocks and 1920's casino chips. Her signature textured style is created by capturing the patterns of 1960's food stamps, 1920's accounting ledgers, and Indian wood blocks.
Page launched her eponymous collection in 2003 when she found herself with a full slate of orders from people who'd heard, word of mouth, about the distinctive designs being worn around San Francisco by Page and her friends. She soon realized that her talent for ornamentation had eclipsed the level of hobby and moved to New York, where she designed a full and varied range of jewelry that marries design and quality with a unique sense of style.
Five years later, Page's jewelry is coveted by celebrities including Jessica Alba, Cameron Diaz and Christy Turlington and has been featured in numerous magazines including Elle, Lucky and InStyle. Her collection can be found in boutiques around the United States, at Barneys in Tokyo and boutiques in Australia, Germany, Puerto Rico and Ireland.


Spring Shoes

Discover the fun and trendy brand that brings you the latest in footwear and accessories all offered up at surprisingly friendly price points. Each season Spring delivers the latest in fresh and ultra sexy styles specially catered for confident fashionistas.

Founded in 1991, Spring is an international brand that has 142 stores in Canada, the United States, Asia, and the Middle East. A widely recognized brand, it offers a vast selection of shoes at excellent prices that appeal to a variety of lifestyles.


Spring has a dynamic growth plan for the next 5 years and will open many more stores both in the United States and as an international franchise.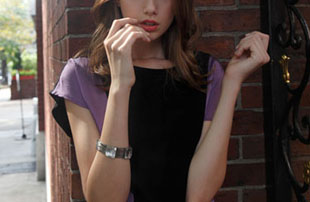 Martine Wester

Martine Wester has established a place in the world of fashion with feminine, boutique inspired jewellery & accessories. Now in their fifth year, Martine Wester has become a hit with celebrities & press alike, with a following of fashionistas in all the major fashion capitals. Often seen on the red carpet & at award ceremonies Martine Wester adds a touch of glamour when needed.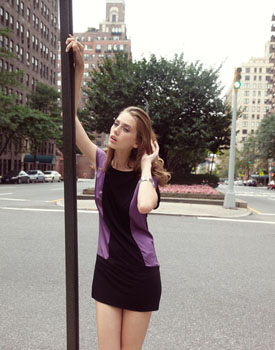 Manisse


New York based designer of stylish, casual women's clothing. Make a truly dynamic statement with Julia Djaafar's simple yet sexy line of elegant designs.
Back to Fall 2009
Sapphire Whisper Archives

Sapphire Whisper Home