Eco Friendly Fashion Fall 2009
Photo Credits
Fashion Stylist: Sandra Alice
Photographer : Daniel Edward Zuchnik 
Daniel Edward Zuchnik was born in El Salvador then adopted and raised in New Jersey. He raises the idea of fashion combined with the inspiration of classic documentary photography. It is fashions ability to transcend, "reality," and always present a new and daring definition of beauty that drives him to photograph fashion. Daniel currently resides in NYC. 
Make Up Artist: Indira Henriquez  


 Hair Stylist: Candice Crawford 
Candice Crawford is a professional New York City make-up artist/hairstylist who has been working in the industry for ten years in salon and freelance. She is a Mirabella Make-up educator and former Paul Mitchell educator. Her diverse work experience includes everything from body-painting to special effects. Candice has organized hair shows for various charities and small businesses and styled for photo shoots, music videos, films and children's events. Her international experience working in other countries, such as Israel and Peru have given her wider views to incorporate into her work.

Candice Crawford Hair and Make UP

Models: Nusya (left) and Kimberly (Right)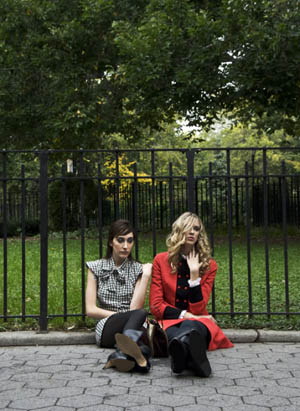 Designer Credits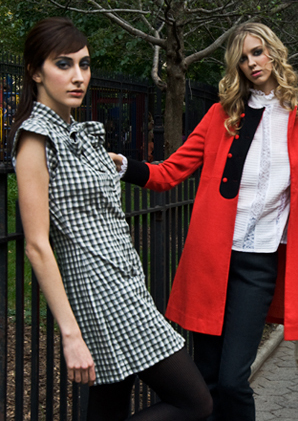 I Love Ryann


All Ryann garments are made from sustainable materials and are produced locally by fair trade labor. Raina Blyer began Ryann in the summer of 2005, with the idea to use fashion as a platform for environmental and social issues. Although she was not a scientist, she could use her experience and love of fashion to help make a difference and get a conversation going about the importance of environmental awareness. Her ultimate goal was to establish Ryann as an example of a business run with love, creativity, responsibility and integrity that would hopefully inspire others to do the same.
Raina Blyer utilizes a wide range of eco friendly and sustainable materials to produce her line . Examples include the following:
Organic cotton - grown from a seed, cotton can be a sustainable and organically grown crop anywhere in the world. if all cotton was grown organically, the use of insecticides would be reduced 25%. Cotton is one of the most versatile fabrics in the world, noted for its soft drape and excellent absorption, every part of the plant can be used.
Hemp - Hemp fibers are derived from the plant species Cannabis Sativa L, which is a natural insecticide. It is often planted in outlaying fields as a means to protect crops. it is also the strongest natural plant fiber.
Ryann's Mission: At Ryann we don't believe in fashion trends. We think trends are dull and predictable and lead to cheap, throw away clothing. We also don't believe in boring. Boring is well, boring, and who wants to be boring?
What we do believe in is creative style that stands the test of time. Our mission is to create collections of original, functional pieces that are made as sustainably as we possibly can. What that means is we use only organic, natural, recycled, and sustainable fabrics. To ensure fair trade labor and high quality, all our garments are sewn by local, fair trade factories. So you get pieces that always look fresh and that last. We are proud to be supporting businesses that promote earth friendly agriculture. When you wear Ryann, you are supporting them too. By supporting local production you are ensuring jobs and strengthening our local economy. Ryann is an investment in yourself, your community, and the planet as a whole. That is one trend we can believe in.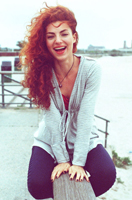 UPDATE: Designer Raina Blyer has taken her line in a new direction, with the introduction of Creem, a light and airy easy to wear line of separates with a continued commitment to quality, sustainability and design. Fabrics such as organic cotton, bamboo, soy and recycled fibers ensure that harmful chemicals and insecticides do not poison the planet on our behalf.
the entire sewing production is done locally in New York City's garment center. Besides reducing carbon emissions from shipping goods, creem also ensures that each person that works on their pieces earns a fair and living wage in a safe and healthy working environment.
Creem was born when we designed a collection purely for ourselves. See we don't sit all day, we move. We move through our mornings, through our days, and flow well into night. We longed for clothes that breathed and transformed as freely as we did, so we created them.But then we felt so good, we decided to share them with you. So now you too can wear the most delicious, sustainable fabrics, crafted into original, fluid shapes, that allow you to move with where ever the day may take you.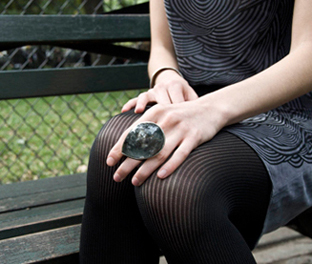 Lisa Linhardt



Linhardt Design Studio is a jewelry boutique, which first opened in Spring 2008 in the East Village that features collections by Lisa Linhardt and a variety of other independent designers. Many of the products are limited editions which incorporate recycled metals, ethically sourced stones, and sustainable materials. The studio also encourages consumers to bring in their unused jewelry to refurbish or trade in for existing work in the store. Linhardt Design Studio refines the precious metal from these pieces and incorporates the recycled material into the house collection. Custom commissioned work is also welcomed and will be designed in the back jewelry studio.
Lisa Linhardt incorporates ethically sourced and recycled materials into her deigns and has cooperated with artisans from Colombia and Africa using their own indigenous renewable materials. Her creations are all handmade and she is noted for working in original materials such as cork, recycled metals, tagua seed and tiger coconut. Because of her progressive techniques in design and innovative eco conscious dedication to sourcing, Lisa Lindhardt has been chosen as one of ten artists to be showcased on a new Sundance series entitled "The New Revolutionaries," which profiles artists who are pushing and/or re-defining the boundaries of their medium. They are re-thinking the status quo, and take an untraditional approach to their work.
Lisa Linhardt was born and raised in Jamaica Queens where her artistry was nurtured in a vibrant and diverse cultural melting pot. She studied dance at Benjamin Cardozo High School, design in Greece & Italy and graduated Magna Cum Laude with a BA in Art from NYU. Professionally, Lisa was an Art Director for a number of magazines and managed her own design agency that included clients such as UNICEF, Salzburg Festival Society and RecycleBank.
For the past decade, Lisa has studied jewelry design from professional mentors and formal training in New Mexico and New York City at The School of Visual Arts and the Fashion Institute of Technology. Lisa's designs are often inspired by her time living in Scandinavia where she was introduced to the work of many mid-century masters in jewelry design.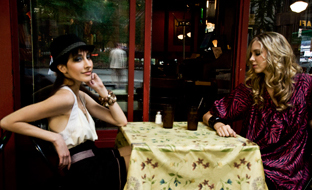 A.D. Schwarz
The Linhardt Design Sutdio has recently teamed up with Summer Rayne Oakes to feature the work of A.D. Schwarz Collection, made from sustainably-harvested wood in Mozambique. Now available Online and at the East Village Boutique
The exceptionally high standard of the A.D. Schwarz label is uniquely blended with sophisticated, timeless elegance and environmental responsibility. From deep in the heart of the Miombo Forests of Mozambique, each high quality design is handcrafted from beautiful, sustainably harvested African hardwoods. Whether it is a simple bracelet polished to perfection or a dining room table designed with an Architect's eye for detail, the A.D. Schwarz label preserves the story of the African forests and the people who live there. All products are limited, exclusive and of the highest quality craftsmanship.
Allan's passion it to break the poverty-forest destruction cycle. He believes that: "Poverty is at the root of forest destruction. My dream is to break the economic necessity of such destruction by economically empowering the forest's inhabitants while building a culture of giving back what is taken or used from the forest and the landscape." In a region where both poverty and forest loss are extensive, Allan is conserving forests by investing in, developing and managing the resources in a sustainable way for the benefit of all the forest inhabitants; thus guaranteeing the survival of his beloved timbers and all the creatures around it.
Using his qualifications as Journey Carpenter and Master Etcher, Allan works with the people who live on forest land to take inventory of the resources and has created a forest management plan that balances timber harvesting with re-planting. He employs workers and trains them in sustainable, on-site, value-added production activities that generate income while contributing to the management of the forest.


Featured the Marilyn Cuff:

FDS "Carmibo Verde" (Green Stamp)
Fairly-traded with community reinvestment & forest replanting management programs
Handcrafted & hand-polished
Designed from non-monoculture, sustainably harvested wood
Polished with non-toxic, allergy-free organic plant oils & beeswax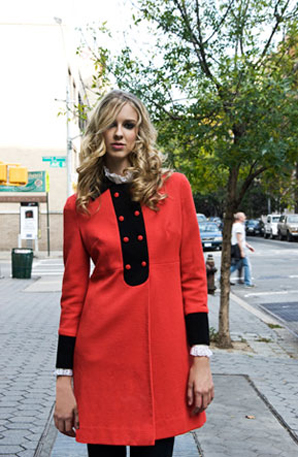 Zachary's Smile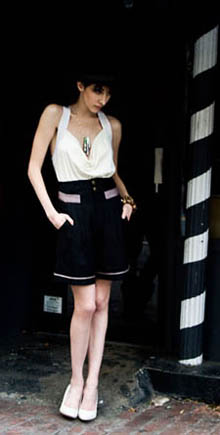 Providing fashionistas with a well edited as well as affordable vintage collection. Vintage pieces that are one of a kind, retro yet modern looks that create a statement with a downtown edge and flare. Amazing accessories, shoes and hot boots add the final touch.

Zachary's Smile began by designing reworked vintage one-of-a kind dresses. This vibrant and trendy line of reworked vintage and talent for incoporating an innovative use of vintage fabrics is now continued in the Remake/Remode label under the brand Zachary's Smile along with their vintage collection, vintage inspired line and select local designer collections.

In additon to the fabulous vintage collection, Sapphire Whisper has featured Zachary's Smile White Label in our Eco Friendly Editorial: Peony Shirt with trim made from men's vintage cotton shirts and Sloane High Waisted Shorts, trim made from vintage men's wool pants.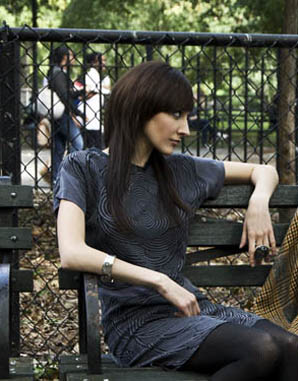 Serial Cultura

Serial Cultura is a clothing and textiles line designed by Jennifer Jennings. With an emphasis on the creative process itself, Jennifer's work involves photography, textile design, printing and dyeing.
Jennifer believes in the art and craft of textile and clothing design. Her work focuses on merging printed art with organically structured silhouettes. Her spring 2010 collection is inspired by simple geometric forms. Each garment shape reflects that simple geometry. The prints are either hand-printed in California or digitally printed from her original artwork. All garments are made in San Francisco, California. Spring 2010 is her fifth collection
Jennifer studied the craft of traditional fiber arts at the Kansas City Art Institute. After completing her BFA she was awarded a Resident Artist Scholarship at Oregon College of Art and Craft to explore her interest in screen printing fabrics and clothing design. After spending a semester as a resident artist, she pursued fashion design at Parsons School of Design. She now resides in Oakland, California.
Serial Cultura is produced locally in San Franscisco. Jennifer was drawn to digital printing as it is a better alternative to traditional printing methods. Printing digitally uses half the ink of screen printing methods and results in far less waste being discharged into the drains. There is no washing of screens or changing colors, so water consumption is reduced by approximately half. The brands continues its dedication to using organic fabrics whenever possible and will carry an organic cotton coming Spring 2010.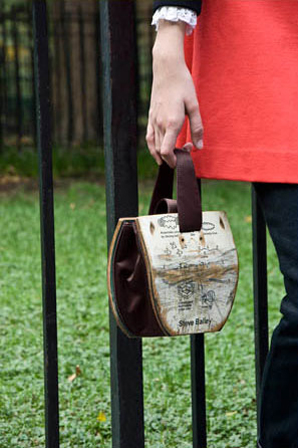 Beck(y)



Founded in 2003 and headquartered in New York City. Beck(y) is a shrewdly designed collection of handcrafted, one-of-a-kind bags and accessories constructed with recycled skateboards and plush high end fabrics. Just like skateboarding, all Beck(y) products are functional art. The simplistic, raw beauty present in used and found objects is one of the initial catalysts that inspired Beck to launch Beck(y).
By combining battered, discarded objects with pristine new materials. Beck discovered she was able to create a unique, fashion-forward paradox with stunning visual appeal. "The grittiness of used, beat up boards combined with something really posh like silk speaks well to my overall aesthetic" Beck says, "and the beautiufl contradiction that results fuels my creativity."
Beck's long-time attraction to skateboarding and its surrounding lifestyle is another factor that motivated her to establish her product line. "Skateboarding has always fascinated me because of its creative, individual nature." she continues "Form an artistic standpoint, I love board graphics and when I was younger I 'd spend hours at my local shop admiring every detail of artwork on the newest shipment of decks."


Beck(y) aptly named sk8bags are handmade by Beck in her New York workshop. It's a very time-consuming labor-intensive process and she counts her lucky stars that she has all ten fingers. Altering the decks as little as possible throughout the production process is extremely important because she strives to always uphold the integrity of her source material.
Recycled skateboards are vital to Beck's operation and she's fortunate to have a handful of generous supportors who send her used and warranty boards on a regular basis. To keep the recycled decks coming her way and to give back to the skateboarding community at the same item, Beck established the Boards 4 Bowls program. For every used board she receives, Beck donates to a variety of non-profit organizations dedicated to building and maintaining public skateparks across the country.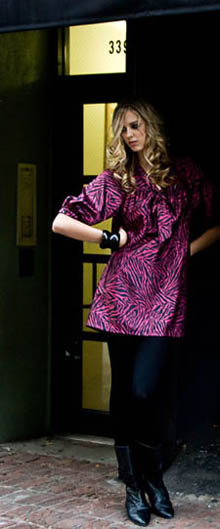 Hana Hattori

"I always believed that your favorite shoes will take you to a wonderful place and I think the same for clothes. When I'm wearing my favorite dress, I feel happy and know it's gonna be a wonderful day! I want other people to feel the same way in my dresses. I want my dresses to be your "go-to" dress that gives you all the confidence, and brings out the best in you." - Hana

Hana Hattori is from Nagoya Japan and now lives and works out an apartment in Brooklyn which she shares with her husband Whitney and two cats.
She draws inspiration from fairy tales, animals, nature, and Japanese fashion magazines. We don't believe you have to sacrifice animals' lives for fashion; you can dress cute while wearing animal friendly clothes. We never use any animal products in our pieces and donte 5% of our revenue to animal charities. This year we're donating to Kitty Kind which is a no-kill, all volunteer cat rescue and adoption agency in NYC.
We want to help those people, like us, who are searching for fashionable clothes that don't harm animals, people just like us, looking for clothes that for sure are not a part of a crazy horrible industry that hurts animals just for fashion. We never want to support animal cruelty and want to work to extinguish it from this world. It's not going to happen tomorrow, but we hope that by raising awareness through our pieces, we can help move the world in the right direction.
We make our clothes to be the highest quality so that they last for years. We also love to use vintage fabric and notions. We make clothes that are for everyday, cute and comfy, clothes that are sure to get you noticed in a happy way, sure to get you sweet words from other people, sure to make you feel special, because you are.