Braccialini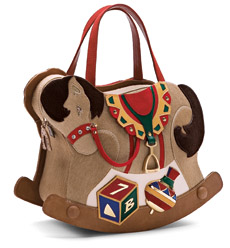 Remarked for innovative design, the Braccialini collection balances confident originality with quality and sophistication. Braccialini's signature style stands out, making each design a wearable and functional work of art. The brand encompasses three distinctive lines which offer a wide variety of styles, ranging from magically whimsical to more refined. To dare and to experiment , to invent and to mentor, Carla Braccialini, the creative spirit and extraordinary founder of the Braccialini brand, has followed that path with intrepid determination and innate courage from the very beginning. Her dream began in 1954 when, together with husband Roberto, she began sewing the very first Braccialini purse.
After loosing her own bag, she came to the realization that within your bag lies your life. And so she set upon the task of creating a truly special line of bags to embody this very principle. Carla wanted her creations to be unlike any other; it had to be a storyteller, it was to forge new trails and set trends. The heart of Braccialini is its commitment to all that is unique: to creative, exciting and cutting edge combinations of color, style, shape and material. Every Braccialini piece has its own distinct voice, which transcends the idea of the ordinary and the typical: a handbag that speaks for individuality and the exceptional.
Braccialini is truly distinguished as a creative innovator through Carla Braccialini's refined creations; their execution and uncompromising originality. And her inspirational message doesn't stop there, in addition to strong involvement in charitable causes like UNESCO and Bottomless Closet, Braccialin's new headquarters stand out as a progressive advancement, embracing the need for social and ecological responsibility.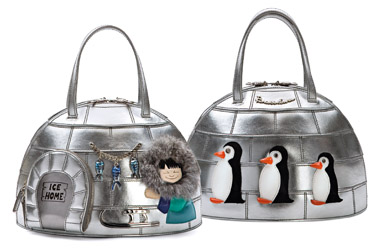 Innovative Desisn
Social Message
THE OPENING OF BRACCIALINI'S NEW, ULTRA-MODERN HEADQUARTERS IN SCANDICCI IS FORESEEN FOR 2009.
The Feng Shui inspired garden-factory has an 11,200 square meter surface on two floors. Braccialini takes a revolutionary new look at its Florentine site, conceived so as to accommodate more than 200 employees in an environment that zeroes in on the quality of work and wellbeing.
The new building, where construction will begin in June, will rise on the remains of an antique Florentine foundry (in the former Le Cure area), in the heart of Italy's most important leather manufacturing district. The project developed by Architect Sandro Cammilli foresees a cement structure with minimal, technologically advanced finishing.
The element of major impact, though, is most surely the principle façade, covered entirely by a vertical garden with plants and ivy that witness to an aesthetic choice hinging on a strong vision of environmental defense. Beyond reducing external noise pollution that can reach 18 decibels, the wall garden will also have the function of stabilizing temperatures of the wall exposed to the sun, possibly reducing them by 15°C, and with consequent reduction of energy consumption.
From this perspective, the project foresees the use of renewable sources of energy like photovoltaic solar panels and the recovery of rain water for irrigation of the garden.
The attention to an external environmental impact is accompanied by an extraordinary sensitivity to what will go on inside the building. The quality of work, 'livability' and mental wellbeing are, in fact, the three principles that Braccialini wanted to follow when it commissioned the project for the new site.
In that regard, the cafeteria/break areas will have all the comforts imaginable, an avant-garde gymnasium, and a suspended garden with an area to relax on the rooftop. In addition, employees will be able to take advantage of a 200 square meter day care center, in accordance with town planning legislation.

But, the real revolution regards the internal layout of the site that will be based on Feng Shui principles, the ancient Taoist geomantic art of China, and for which the company will consult an expert from Hong Kong.
An approach to industrial architecture that is absolutely innovative and that places Braccialini among the most modern and environment-sensitive companies in Italy.
BRACCIALIN PARSONS AND BOTTOMLESS CLOSET

Carla Braccialin will partner with Parsons The New School for Design to launch a design and marketing competition called "Every Bag Tells a Story" The competition directs students to design a bag that provides a particular meaning to them: a bag that tells a story. Winning designs will be offered as a Braccialini Limited Edition Collection in stores in NYC and Milan.
The Parson's partnership calls on the Braccialini customer to get involved with the Braccialini story. Braccialin's "Giving Gives Back" initiative invites customers to bring (or send) a gently used bag and its story to the Braccialini boutique in Soho (from September 10, 2009 to February 12, 2010) and receive a Braccialini NYC Club Card for exclusive access to the Limited Edition Collection and a special discount at the beginning of each season. Donated bags and stories will serve as inspiration for the Parsons Design students in the "Every Bag Tells a Story" competition. After the contest all bags will be donated to Bottomless Closet to help women in need return to the work force with appropriate wardrobe and accessories. Bottomless Closet's works to provide opportunities for women to change their lives, in addition to educational resources and workshops, they offer women in need professional work attire to help ease their transition to the work environment and to create a new self image.


Braccialini chooses with care its charitable endeavors as can also be seen in past collaborations: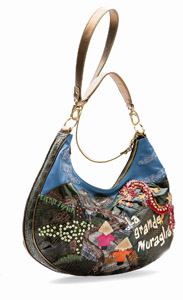 BRACCIALINI AND UNESCO
The Tua by Braccialini AW 2008 collection featured a line of five bags that reproduced images of the places in the world that UNESCO has recognized as World Heritage locations. With this initiative, Braccialini donated a part of its sales revenue to UNESCO. At the same time, Braccialini hopes to raise awareness among its clients so that they too might share those values and contribute in a concrete way to the protection of sites of paramount importance..
UNESCO, is a specialized agency within the United Nations: (the United Nations Educational, Scientific and Cultural Organization) It was established in 1945 with the mission 'to build the defenses for peace in the minds of men' Education, Social and Natural Science, Culture and Communications are the means through which UNESCO works to achieve this goal, advocating the need for mutual respect within nations and a global vision of sustainable development and observance of human rights.
Visit here for additional information on UNESCO and to see how its work is vital to our futures.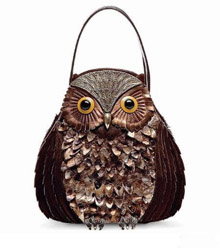 SAVE THE OWL PROJECT


The Braccialini F/W 2007- 2008 Collection was largely inspired by the "Royal Owl:, hunted in the past and today a protected species that risks extinction. Over the last hundred years the number of specimens has been reduced by two thirds. Braccialini has take this matter very much to hearts and contributed to the preproduction of this Prince of the Night not only be dedicating their most precious lines to his lighthearted images by also with an important donation to the Mugello Bird of Prey Recovery Center.
.
Braccialini's high quality handbags are made only from leathers which are a naturally part of the chain of life. They do not use animal skins of rare or exotic animals and have worked to develop printings that mimic this look on the skins so as to create an authentic look of more rare animal skins. And as a whole the company works to create its art with respect to the balance of nature.
Some may not immediately consider Braccialini to fit into the category "Eco Friendly" but I believe that the lines are beginning to become more gray as companies are evolving. And what's important to understand is that the message of eco friendly is never about drawing barriers and limits. Companies and individuals have strived to think outside of the box to move in a new direction to improve our way of life by working to ensure our future. Everything begins and grows from a shift in perspective in which one first and above all accepts responsibility and recognizes that only through making effort to take action as individuals and individual companies can we begin to make a positive impact on the whole. The moment has passed that this is someone else's concern. Not every company begins specifically as "green", but through each choice and action one can adjust to a more eco friendly business; each step and each decision bears an impact on the world. In a similar light all individuals hold this same capability and responsibility. Braccialini's new factory has been described as one of the most environmentally sensitive companies in Italy and that is truly an impressive accomplishment. What's even more inspiring is Braccialini's commitment to humanitarian and social equality which have accentuated their environmental position by not only working towards more sustainable industries but also sharing resources and influence to improve the lives of individuals.
Braccialini shows us all an inspirational and beautiful balance, creating designs that are marked for their exceptional individuality while acting as a company that embraces collective responsibility