Aaron Basha
aron Basha offers us such a stunning and adorable collection of shimmering whimsical treasures. Finely crafted highly original works of art bring a smile and a refreshing lighthearted take on fashion with an incredible array of luxury charms and accessories. Irrestible fun and glamour all in one exceptional design!

Fall Collection 2009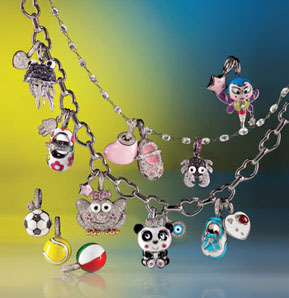 With magical visions and themes of childlike innocence, Aaron Basha, the luxury jeweler known best as the "King of Charms," introduces the latest members to join his jolly crew of beguiling characters. Welcome to The Whimsical World of Aaron Basha. From heart link bracelets dangling with animated characters, to briolette necklaces donned with timeless treasures, dare to dazzle with Aaron Basha's whimsical world of enamel and pave charmed creations.

Designed with the classic Aaron Basha perfection and individually hand-crafted, the newest creatures have already become coveted collectibles among celebrities and royalty alike. Available in an endearing assortment of styles, featuring Aliens with lovable expressions, adventurous, seafaring Pirates, and eye-popping Monsters introduced in fanciful fashions, they are the perfect compliment to any charmed piece and are sure to become a quick favorite. Whether you wish to flaunt your sparkling personality with a fancy Frog Princess, or share your athletic passion with the adorable Play Ball designs, the world of Aaron Basha has charms to fit any lifestyle. From cheerful critters in rainbow colored enamel tones, like the friendly frogs and dashing dragonflies, to the lovable London Bobbies, fighting ninjas and timeless pastel chapeaus, treat yourself to some of the most delightful creations from Aaron Basha to date.
This season, Aaron Basha, the luxury jeweler known best for their whimsical and unique creations,introduces the newest additions to their trend-setting "Evil Eye" collection. Modern masterpieces mixed with mystical allure, Aaron Basha's enchanting Evil Eye designs truly define artful opulence and have now become a symbol of good blessing. Beautifully crafted and exquisitely presented, the tempting talismans that adorn the enamel, 18K gold and diamond pieces shed stunning light on their fabled power to protect their wearer, revealing a fresh translation of the timeless concept of good karma. With prices now ranging from $480 to $5,000, the new pieces include higher-end items such as pave diamond "evil eye" talismans strung from twinkling chains of 18 karat gold, as well as updated adaptations of the popular charmed amulets in petite styles to suit any size or budget.
Recently featured on Entertainment Tonight and in the pages of Town and Country and Vogue, the sensational Evil Eye collection has captured the attention of celebrities, socialites and fashion connoisseurs worldwide; with stars such Madonna and Angelina Jolie seen sporting the protective treasures. Spirited and radiant, shimmering and sultry, the elegant Evil Eye collection offers absolute luxury for ultimate protection.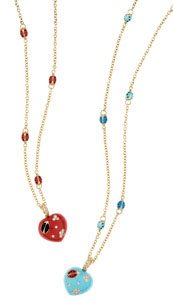 Aaron Basha's charming Love Bug Collection, features a playful number of pieces accentuated with the adorable red and black enameled ladybug charms.Already a hit among celebrities and fashion icons, this popular selection of rosy charms, earrings, necklaces and bracelets have become a "symbol of good luck and good wishes," joining Aaron Basha's growing assortment of spiritually and emotionally meaningful charms.
In addition to his world-renowned reputation as the "Godfather of Charms, Aaron Basha, the man behind the luxury Madison Avenue jewelry brand, was also named "Lord of the Lady Bug Ring," after Peter Jackson won an Oscar for Lord of the Rings and bought himself several of the jeweler's Lady Bug rings. Other celebrities who have also caught the Aaron Basha Love Bug include Paula Abdul, Jennifer Capriati and Britney Spears.

With their warm message of hope and good fortune, the cheerful little ladybugs featured in the sensational Love Bug Collection are certain to bring smiles and joy.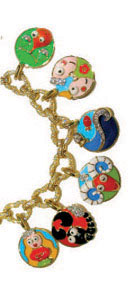 Lighten up with astrology inspired accessories from the new Zodiac Collection by Aaron Basha,the world-renowned fine jewelery. For over a decade, youthful visions and themes of magic and fantasy have been at the very heart of Aaron Basha's creations.
Multicultural influences, mythical nuances and lustrous hues bring to life Aaron Basha's delightful world of astrological characters. With lashings of vibrant colored enamel and cast in shimmering 18 karat gold, the luminous and playful new charms are certainly a conversation starter. Whether you're a fiery Leo or a water loving Pisces, each Zodiac design exudes glamour and personality, while evoking the enchanting splendor of past tradition. A modern rendition of the familiar and beloved "star power," these divine new charms shed magical light on ancient celestial belief. Consistent with the designer's signature timeless appeal, the elegant new Zodiac Collection is a dramatic, yet lighthearted addition to Aaron Basha's unique assortment of whimsical baubles.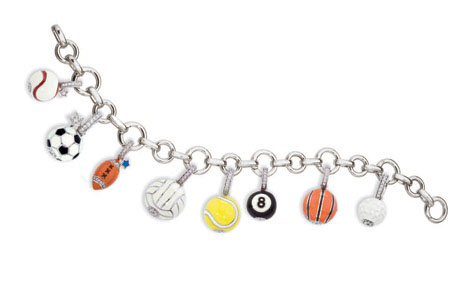 With inspiration rooted in the world of sports,the playful new charms fromt the Playful Ball Collection, truly ignite the fervent spirit. The message is clear in the athletic inspired designs, which tenderly speak to the theme, "the love of the game." Share your passion and capture the exhilaration of some of your favorite games with the beautifully crafted enamel, 18K gold and diamond bejeweled charms.
Available in both yellow and white gold, choose from an inclusive selection of sparkling styles, such as the shiny soccer ball sculpted with white enamel and silvery accents, the brawny baseball hung from a dazzling diamond bale, or try your luck with a modern rendition of the Magic 8 Ball in black and white enamel.
Other fashions include fancy footballs, golden tennis balls, bright orange enamel basketballs and adorable miniature golf ball charms. Playing into the designer's signature timeless appeal, this lively new collection is a welcome addition to Aaron Basha's elegant assortment of charmed designs.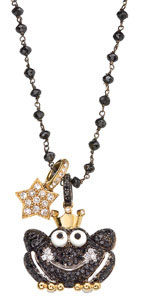 Inspired by the exhilarating events of both his professional and private lives, Aaron Basha, in all his marvel, manifests nothing short of magnificence. "What more could a man ask for than a happy, healthy family, a successful business and the ability to experience them mutually each and every day," explains the jazzed jeweler. "Life is glistening! I am celebrating with diamonds!"
Designing in such delight, this latest collection has customers fawning over handsome hearts, the Basha Link in glittering pave and some of the most beaming Baby Shoes to date. Snatch up a spruce signature style, like a fancy fish, fashioned in the same lavish yellow toned stones, or, as recently seen in W Magazine, try your luck with the famed Frog Prince, exclusively encrusted in black and white pave diamonds. Display these exquisite accessories on a twinkling chain of black or white diamonds; otherwise flaunt one flagrantly from your ring finger.

Like never before, Aaron Basha dares you to dazzle. Welcome to "Era Opulence".



Introducing his latest pieces from the Floral Collection, Aaron Basha takes flower power to its most precious level.
Featuring delicate daisy studs of 18 karat gold set with pink sapphire centers or fanciful "forget me not" petite earrings,this fresh assortment recreates Aaron Basha's very own whimsical garden.Each bloom in the floret earring sets shines with softly sculpted enamel petals in a cheerful palette of pinks, yellows and greens. Embrace your inner "flower child" with these airy new creations, like Teri Hatcher who recently purchased a sweet set of turquoise stud earrings.

A bright bouquet of petite posies, the new floral-stopping designs from Aaron Basha are sure to brighten anywhere they glow.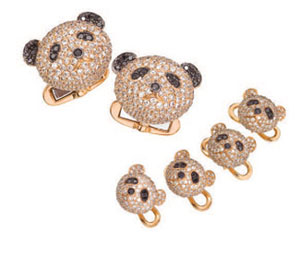 Aaron Basha presents the latest additions to the popular luxury collection of men's Cufflinks and Shirt Studs. Select from an array of alluring enamel designs ranging from lucky lady bugs to tantalizing tigers and pave diamond pandas.

For the man on the move, you'll be sure to lead the pack with Basha's sable enamel race cars encrusted with white pave diamonds. Fly even higher with airplanes available in just about any hue you choose. Scoop up some sparkling sea life in Clown Fish or argyle styles, or perhaps fashion your own fairy tale with companion Frog Prince & Princess links. In addition to his cufflink and shirt stud characters, Basha also offers an unusual array of one of a kind antique pieces obtainable exclusively at the flagship Madison Avenue boutique. Several Aaron Basha signature style cufflinks are additionally available as tie pins and range in price from $3,000 to $12,000 per set.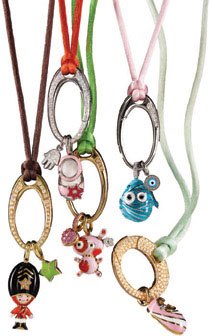 Known for innovation and the mastery of unique jewel design, Aaron Basha, the leader in playful, personalized luxury jewelry, reveals their original Accessories line. Versatility meets elegance with Aaron Basha's radiantselection of Enhancers and Basha Link baubles, which are cleverly complimented by a multitude of charmed Add-ons and imagined in their own luxurious idiom of 18 karat gold, lustrous enamel and pave diamonds.
Now, with endless possibilities of color, material and design, women are able to add or subtract various charms, mixing and matching them as her mood and style dictates.

Introducing Aaron Basha's much anticipated Basha Link, a multi-functional bracelet with a truly revolutionary design. Featuring specially crafted links that allow customers to rearrange or remove charms without special tools, each patented Basha Link bracelet can display up to seven charms at a time. Rather than purchasing multiple themed pieces, with the Basha Link, clients are now able to own one bracelet that is easily transformed and adapted to their every fleeting desire.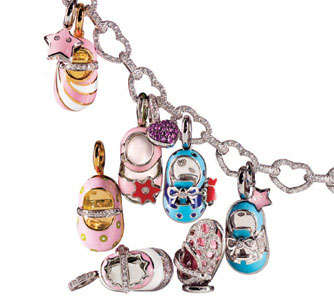 Inspired by the heart and an appreciation for life's little pleasures, Aaron Basha's Baby Shoe Collection includes a precious assortment of expressive jeweled pieces adorned with the company's signature Baby Shoe charms. With styles ranging from necklaces, bracelets and earrings made from 18 karat gold, diamond and enamel, all of the colorful pieces are individually hand-crafted and specially designed to bear personal significance.

Originally conceived over a decade ago to celebrate the birth of his first grandchild, Aaron Basha, owner and founderof the company, credits the fascination of the Baby Shoe charms not only to their highly emotional appeal, but also to their global fluency. After being featured in W Magazine during their initial debut, the jeweler received an overwhelming response, with everyone from celebrities, such as Madonna and Demi Moore, to royalty and fashion aficionados coveting the new Baby Shoe accessories. Since then, the Baby Shoe collection has continued to garner much popularity, securing the Aaron Basha brand a significant and devoted international following.
Building upon the success of the original design, Aaron Basha has cleverly reinvented the signature charms with a splashy collection of Flat Baby Shoes. Featuring brilliant flashes of color and an innovative "two-dimensional" shape, these Baby Shoes in Aaron Basha's latest collection are certainly fashion's new must-have flats! An accessible and fresh rendition of a familiar, beloved design, they skillfully represent the synthesis of artistry and tradition, but with a modern twist; a "flat" Baby Shoe charm that truly boasts high-impact volume

About Aaron Basha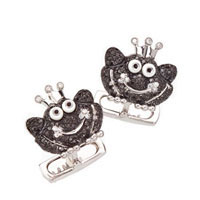 Aaron Basha, whose flagship store is located on Madison Avenue in New York City, is a luxury jewelr y brand known for its unconventional designs. Most celebrated for their famous jeweled Baby Shoe pendants, Aaron Basha fine jewelry brings style and elegance to every design, while consistently following its trademark theme of "Magical treasures for the child at heart.'
Originally conceived to celebrate the bir th of the founder's first grandchild, the Baby Shoes Collection established the company's identity as the industry leader in innovation, style and creativity. Today the company offers a wide range of designs, expressive of love, family joy, good luck, the youthful innocence and optimism. Its Ladybug designs are sparkling emblems of luck, while its Evil Eye amulets serve as protection against harm, and its Aliens and Monsters are still another cozy rendition meant to disarm childhood bogeymen.
Drawing inspiration from notions of love, life and family and the guiding philosophy, "Everyday should be a holiday to celebrate life," Aaron Basha, patriarch and namesake of the luxur y jewel brand, has translated his joie de vivre into ever y unique design. All of the Aaron Basha pieces, delicately handcrafted in Italy, possess their own unique personality and are symbolic of a lifestyle.
Joined by his wife, Margaret, and their four children- son Sasson, and daughters Osi, Tally and Regine, this "Godfather of Charms," has sparked a creative revolution among the world of jewelr y design. It was Basha who made briolette cut diamond jewelry popular a decade ago, a style that spawned the company's signature charmed jewelry, which evolved from the playfulness of the swinging briolette.The designs are offered in a wide range of material from pure 18 karat gold to a rainbow of colored enamel pieces, with styles that include pendants, necklaces, earrings, bracelets, brooches, rings and cufflinks.
Formerly a pearl dealership, the House of Aaron Basha has established itself as a worldwide leaderin unconventional luxury jewel design. Currently in its third-generation, the Aaron Basha brand has remained a family-owned and –operated business since its inception in 1906. Today, Aaron Basha enjoys a wide following the world over.
Whimsical and sweet, the Aaron Basha designs have captured many hearts, with such high-profile clientele as Hollywood celebrities, international royalty, as well as many influential members of the fashion industry. Celebrities who wear Aaron Basha designs and consider themselves "a child at hear t" include Eva Longoria, Teri Hatcher, Angelina Jolie and Brad Pitt, Catherine Zeta Jones, Heidi Klum, Demi Moore, Britney Spears, Melanie Griffith, Celine Dion and Faith Hill, among many others.What began as a small private enterprise, the Aaron Basha jewelry business has now grown to include both its flagship boutique in Manhattan, as well as their newest locations in Tokyo and Kiev, with their jewelry collections also available at many other luxury retailers worldwide, such as Neiman Marcus, Saks Fifth Avenue, and Harrods in London, to name a few. In the future, the company plans to continue expanding, with the creation of many additional Aaron Basha boutiques around the world